I sent out an email update last week on some various changes we made to our system. Here is a copy of that email. If you would like to get on the email list please email
support@deltagroup.com
and let them know you would like added to the weekly update email list.
Everyone,
Hopefully you've had a good week! In this email I'm outlining a few system changes that we've made in the past week. As always, if you have any questions please email
support@deltagroup.com
and the team will help you.
The Best New Listing Notification Email System Got Better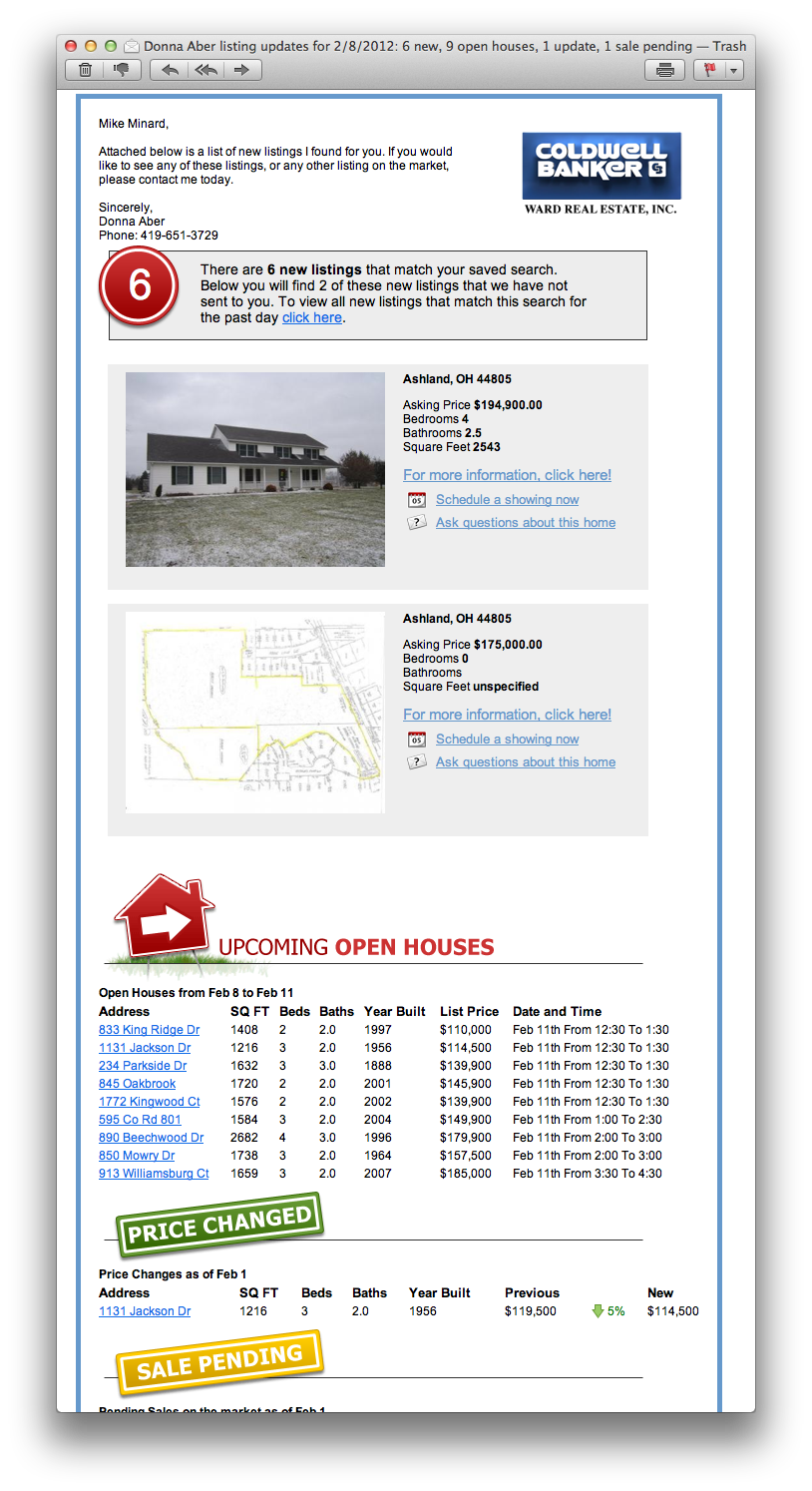 We've updated the format of the New Listing Notification Emails. The subject of the emails has been updated to be in the format of [Company/Agent Name] listing updates for mm/dd/yyyy: x new, y open houses, z back on market, a sales(s) pending, b sales(s). Here is a good example from an email I just got a couple days ago: Donna Aber listing updates for 2/8/2012: 6 new, 9 open houses, 1 update, 1 sale pending. As always, the agents can override this default subject format if they choose under the preferences section of the DeltaNet.
Blogging Updates that Make Sense for ALL Agents
We've posted an update to our blogging system that makes our integrated blog system work more like popular blogging systems such as Blogger. We've removed the Title section so we now have a Subject and the Blog Post itself. We've also re-arranged some things on the public side to clean-up the format some and make it look cleaner. This feature has been very popular and is available to all companies and all agents that are on the upgraded and standard systems. Agents can access the blog features under the Marketing Tab. Administrators can access this feature for their company under the Admin Side under the Marketing Tab as well. If you aren't using this feature you really should consider doing so unless you have a specific SEO strategy for not using an integrated blog.
Easily Add Customers While Doing an Email Blast in DeltaNet 4.0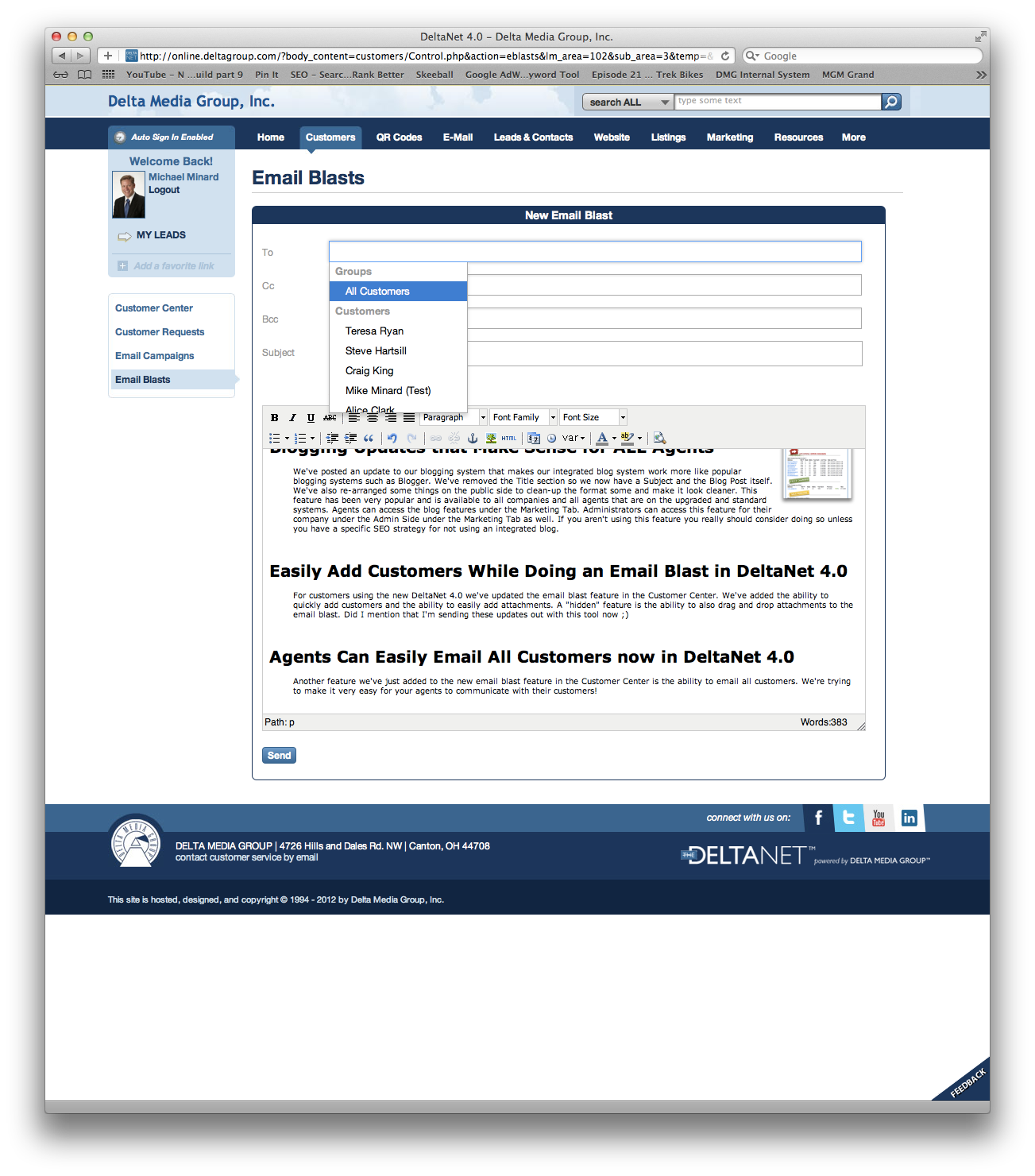 For customers using the new DeltaNet 4.0 we've updated the email blast feature in the Customer Center. We've added the ability to quickly add customers and the ability to easily add attachments. A "hidden" feature is the ability to also drag and drop attachments to the email blast. Did I mention that I'm sending these updates out with this tool now ;)
Agents Can Easily Email All Customers now in DeltaNet 4.0
Another feature we've just added to the new email blast feature in the Customer Center is the ability to email all customers. We're trying to make it very easy for your agents to communicate with their customers!
Agents Can Personalize Email Blasts Easily in DeltaNet 4.0
One last feature added in the past week on the email blast feature in the Customer Center is the ability to personalize email blasts that are going out to all customers. We've added a button in the toolbar that is titled "var" where agents can insert Customer Database variables. So far we have added "Client Full Name" and "Client First Name". This works just like a mail-merge. If these variables are used we will address each email recipient with their appropriate name in the email that the agent sends out.
YouTube Video Control for Agents
Videos are really big and agents are adding more and more videos. With these videos it is becoming necessary for us to add some options to allow the agents to filter out other agent videos from properties that are displayed on the agent sites. We've given agents the ability to hide videos uploaded by other agents. We've heard of some agents that didn't want branded videos from other agents showing on their site so we added this control. Agents can access this under Listing Display controls of the Website section.
More Reporting to Administrators
We've updated the Agent Roster Report and added an option that will allow administrators to see which agents have been removed from the lead broadcast list. This helps Administrators quickly see what agents are in the broadcast pool and which ones are not.
Better HTML Editor
First, let me apologize for not pre-announcing this feature release. I'm sorry! With that said, it was necessary to push out an immediate update to the HTML Editor within our system. The editor we were using starting showing errors with the latest Internet Explorer updates and the editor is no longer supported. We were planning a move to this new edit but, we had to rush the release out.
The new HTML edit is the same editor that Facebook, Apple, Joomla, Wordpress, Microsoft, etc. use. It's good and it produces really good, clean HTML code. We're excited about it.
Also, we have an updated HTML Editor Manual that we've created that we will have live by Monday within the DeltaNet.
Agents Can Hide Office Name on Their Sites Now
We've added the ability for agents to hide the office name from their sites. By default, we show the office name that the agent is in on their websites. Some agents have requested that we hide their office name for various reasons. The ability to disable this is on the last step of customizing the website. There is a checkbox for "Show office name on website". Our default is checked.