Here is a copy of an email I just sent out to all Administrators...
Everyone,
Here are the major updates for the past week at Delta that I think you should be aware of...
Pinterest.com Was NOT Working But...Is...

OK. As you know, the Pinterest button was added to our 30,000+ sites about two weeks ago. Since that time some users had experienced intermittent issues with pinning photos, including yours truly!
The good news is that we fixed it late last night! The bad news...we have to accept responsibility for the problem.
Let me explain:
I knew about the problem of not being able to pin but the problem was intermittent and not consistant. This made it very tough to track down and resolve on our end. We actually thought that the problem was on Pinterest's end and we reached out to their support department on multiple occasions on the issue. Unfortunately, we still have not received a single response from their support team :(
However, I started thinking about the problem more last night and, for whatever reason, I was starting to wonder how they were coping with their rapid growth. (Basically I was thinking like the techno-geek that I am and thinking about the server issues that come with growth.)
What came to mind was that I wondered if Pinterest was being hosted on the Amazon Cloud. So, I did some digging and found that they WERE hosted on the Amazon Cloud. Bingo!
We actually block part of the Amazon Cloud. If you're wondering why check out this
Google Search
. So, I got up from my desk and walked over to the operations department at around 6:30pm, shared what I found and the team (Shane and Stephen) came up with a solution that allows us to still block the Amazon Cloud attacks and still allow Pinterest to work. They had the solution up and running by 7:02pm last night...Thank you Shane and Stephen!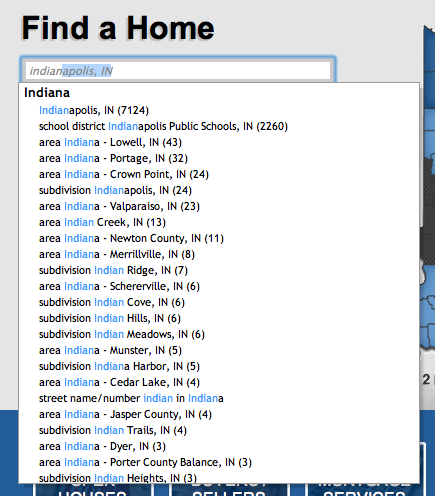 The Best Quick Property Search Keeps Getting Easier to Use
We've upgraded the Quick Property Search on all the sites yet again.
With this update we've expanded the acceptable logic for doing full property searches. With our Quick Property Search feature we're tracking that customers prefer this method by more than 2 to 1 now and it's growing.
As a reminder, our Quick Property Search can search States, Counties, Zip Codes, School Districts, Areas, Cities, Subdivisions, Neighborhoods, Lakes, and Addresses all at the same time, in real time while showing total number of properties in each match result. The matches are also sorted with the matches with the most results first. You'll also notice that we don't limit our matches to just a few like some other companies do which makes ours even better yet :)
A Better Call to Action
We've updated all sites using our proactive MyHomeFinder notices to feature a new notice (pictured below).
This new notice is much cleaner, more visually appealing and we only require an email address now. This will help encourage more customers to engage with your company and your agents as they search for properties.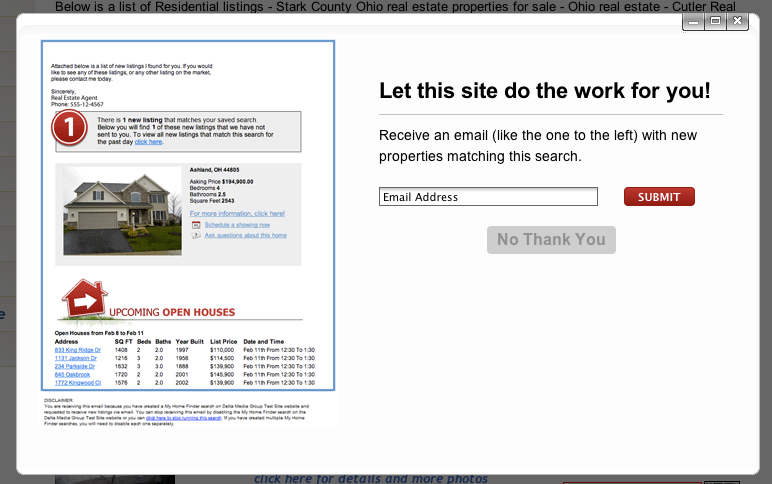 Manage Your Open House Ads with Delta
We've released a new Open House Ad Manager. This system gives your agents the ability to enter open house ads for use in publications all while managing deadlines. There are so many features that if you are interested you should reach out to our Customer Service Staff for a walk-through of the system.
Have a great weekend!
Sincerely,
Mike Minard
President
Delta Media Group, Inc.