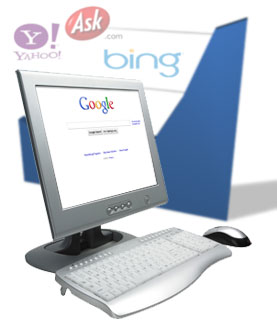 With so many 'voices' out there how are Real Estate Companies supposed to know who to listen to and what to believe
when it comes to their websites and online placement (aka Search Engine Optimization)? You would think that some of the sources who tout themselves as SEO experts
should have the best interests of these companies at heart. I'm here to let you know that they usually do not!
With doing so many websites around the country I think we've seen just about everything and heard just about everything as well. We see Real Estate Companies receiving 'advice' on how they should handle customers and what should be emailed to them. We see 'advice' telling Real Estate Companies how to handle data feeds and where to link the traffic.
Well, here is some free advice that if listened to, can generate your company millions of dollars in transactions. We have a proven track-record with following this advice and can back-up everything being said here with a proven track-record of over ten years doing SEO. We do know what we're talking about!
So, here's some free advice...
All links must link back to YOUR site
You can not compromise on the fact that every link from all possible sources must link back to your website. This includes links from any portal, links from any emails. All traffic!
While there may not be any link value and while search engines may not be able to follow some of these links it is well known that search engines do favor sites that get more traffic. There is no way you should ever link any visitor to any website other than your primary website.
URL Structure DOES MATTER
The way your website is designed is critical to your online success. One element that is important is the URL structure of your pages. We've paid attention to URL structures and what works along with what doesn't work. Sometimes we've seen some self-proclaimed 'SEO Experts' only recommend a specific URL structure and if their structure isn't followed then your not doing what you should for good SEO. This is flat out wrong!
URL structure must fit with an overall strategy for SEO results that has a proven track record that can be verified. If an SEO Expert can't show you any website they do that gets a large amount of visitors and search engine traffic don't use them.
I've seen too many cases where Real Estate Companies insisted a specific URL structure be used, against our advice, only to have a huge negative effect on the overall SEO of the website. Unfortunately, these self-proclaimed experts seem to disappear or point fingers when their recommendation does the opposite of what was intended. The bottom line: Listen to people with a proven track record of generating huge increases in meaningful website traffic that converts into business. These types of experts, like the team at Delta, take responsibility for the results and stand behind the work because they know what the heck their doing! So, don't argue too much between Permalink style structure or Property Address style structure but do go with an OVERALL strategy with a proven track record.
Content Does Matter
The content on your site helps to supplement any SEO effort made through any systems implemented for SEO. Only so much can be done using listing data for SEO results. To have the strongest SEO results there needs to be an overall SEO strategy that includes content mixed in with listing data over an extended period of time.
Don't expect to get great results by adding some content and hoping your site does well for months to come. Content needs worked on consistently over time.
An Easy to Use Site Gets SEO Ranking
Google is rewarding websites that customers find easy to use. We can't put it any simpler. This is why we've spent thousands of hours working through how things work before we even build them. Why? It's just as important, if not more important, to give customers a GREAT experience on your site during their property search.
An Integrated Mobile Strategy Helps SEO Ranking
In September 2012 we released our new Mobile Platform. It was written from the ground up with user experience and SEO in mind. Google is rewarding our customers for this integration already. When we launch a customer on our Mobile Platform Google generally crawls thousands of mobile pages within hours and in some cases within one hour. We even have sites that get millions of pages indexed daily. Mobile is helping to contribute to how well sites are indexed.
Meta Tags don't do much
Meta tags such as keywords and description tags don't do much if anything at all now. We have been able to get thousands of pages on the top three spots on page one without doing anything with the meta tags. Don't worry too much about meta tags, as long as you're paying attention to everything else!
Can't SEO be Included?
To get good SEO you have to spend money! Period. There is no way to get GREAT SEO results and not have to spend money on an ongoing basis. Sometimes we get asked by Real Estate Companies why we charge for SEO. It's simple, our SEO generates so much activity from search engines that it puts a load on our systems. Granted, a website may only get around 200,000 visits monthly, but with the number of sites we do that get that kind of traffic get millions of pages crawled monthly. This puts load on servers that needs to be paid for. So, if you want big results, you have to pay.
SEO Can Not be Automated
There is no way to automate SEO and get the desired results. To get good results for SEO you have to pay attention to Google Analytics and Google Webmaster Tools on a regular, ongoing basis. Changes and tweaks to the overall SEO strategy must be made over time to get the desired results. This is manual work done by real people that has to be paid for. The people that really know what they're doing also command a premium because the high level of results they get.
Is SEO Done Once and Then I'm Good?
No. SEO work needs done constantly and consistently to achieve and maintain top-level ranking in the major search engines. Again, the only way to do this is with a 'hands-on' approach by real people.
Delta Media Group's SEO Team
With Delta Media Group's SEO Team, what you see is what you get. A top-tier team of SEO experts dedicated exclusively to our Real Estate customers' search engine needs. The Delta Media SEO Team works daily to incorporate all elements of SEO to develop your website and DELIVER RESULTS!